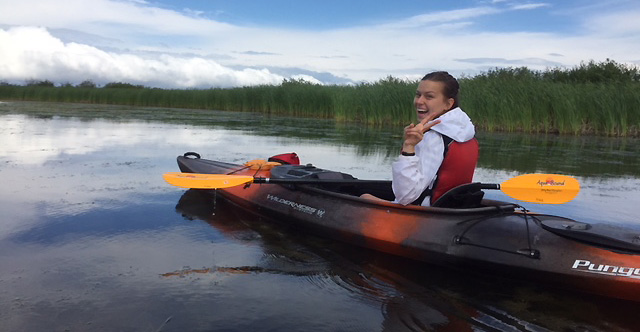 Willow Creek Tour
(July 12 – 11:00 am)
Climb into your kayak, dip your paddle deep, and slip along quietly while enjoying a 2.5 hour paddle up the creek or toward the Lake (depending weather and creek conditions and participant interest). Both offer a unique opportunity for nature sightings, which we will take time to talk about along the way.  Common sightings include turtles, pelicans, herons, cormorants, and red-wing blackbirds along with a variety of shore-birds.
Basic kayaking techniques and paddling instruction will take place before we head out. Bring along some snacks as we will be rafting up to enjoy the surrounds and to share some stories before we return to the base dock.
Online Rates: Adult – $72.00 / Child – $36.00 (pay w/ PayPal or CC)
Regular Rates: Adult – $80.00 / Child – $40.00 (cash only, day of tour)
Limited seats & Booking Priority Procedure: please note that priority is given to Online/Pre-paid bookings; the remaining spots are provided to those who 'Walk-Up' on the day of tour. Regular rates, in cash only will be accepted at the launch site. If you intend on 'Walking Up', please check our Online Calendar for spot availability prior to coming out. Full payment is required prior to launch. Signed waivers are required by all participants. Cancellation policy: bookings may be cancelled up to 24 hours prior to your tour date with a full refund. Please contact your Tour Leader for all cancellations/refunds: in**@pr*************.ca