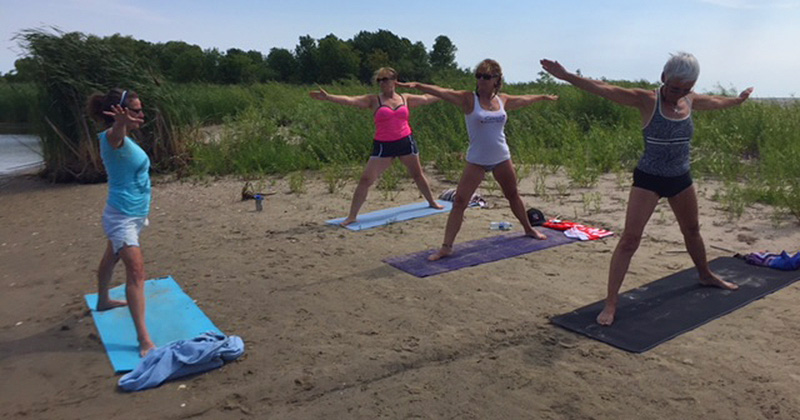 Yoga Tour
(July 11 – 11:00 am)
Stow away your yoga mat and enjoy a relaxing paddle as we weave our way toward the Lake.
Once there we will disembark from our boats and be treated to yoga on the beach by a certified instructor (45 minutes). This three hour excursion will also include opportunities for nature sightings, basic kayak instruction, and a snack break (bring along some treats).
Leanne Stevens is a qualified Yoga instructor who has been actively teaching yoga for the past 18 years in the Interlake. She draws from her studies in India to offer an informed and authentic yoga experience. We are very fortunate to have Leanne join PSKA for these tours and she looks forward to participating in this venture.
Online Rates: Adult – $81.00 / Child – $40.50 (pay w/ PayPal or CC)
Regular Rates: Adult – $90.00 / Child – $45.00 (cash only, day of tour)

Limited seats & Booking Priority Procedure: please note that priority is given to Online/Pre-paid bookings; the remaining spots are provided to those who 'Walk-Up' on the day of tour. Regular rates, in cash only will be accepted at the launch site. If you intend on 'Walking Up', please check our Online Calendar for spot availability prior to coming out. Full payment is required prior to launch. Signed waivers are required by all participants. Cancellation policy: bookings may be cancelled up to 24 hours prior to your tour date with a full refund. Please contact your Tour Leader for all cancellations/refunds: info@prairieseakayak.ca
Sold out!